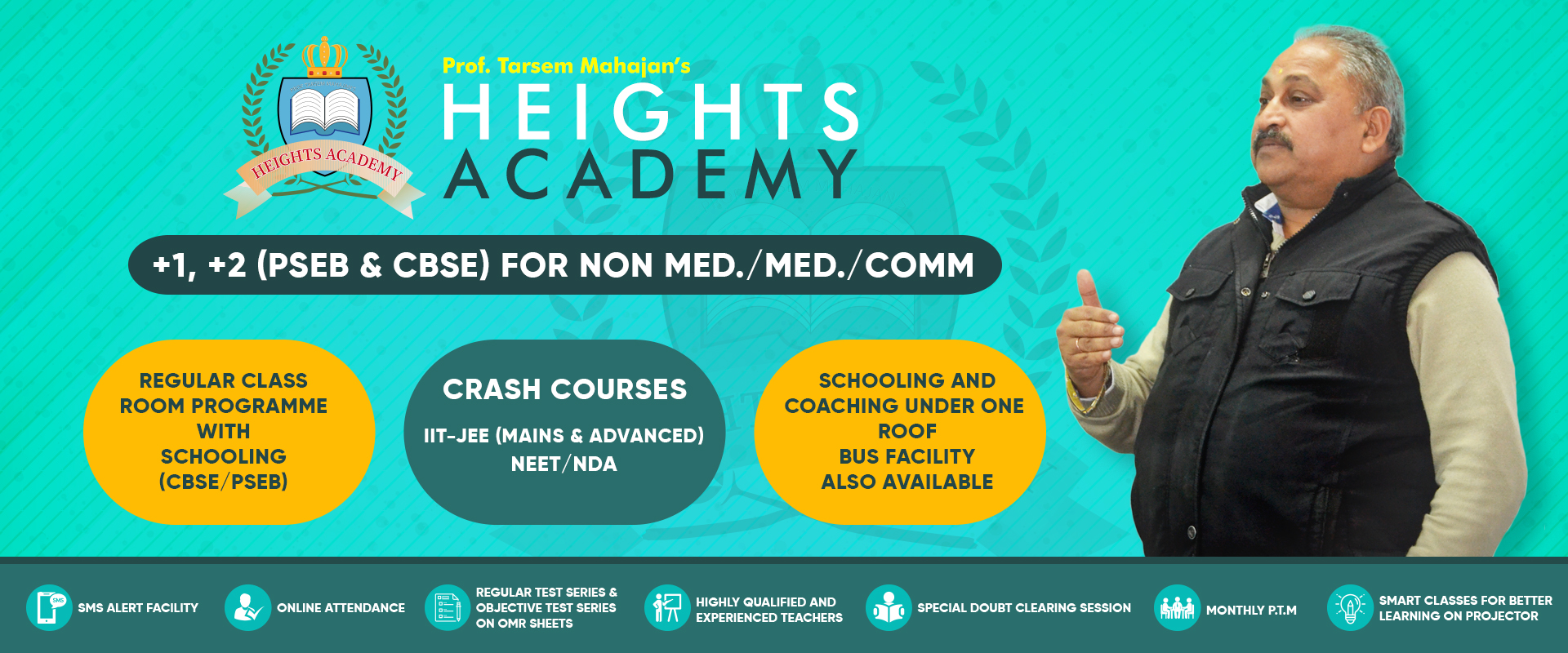 10+1 & 10+2 Coaching, Hoshiarpur
Heights Academy, Hoshiarpur is one of the most prestigious coaching institutes in Hoshiarpur city that offers 10+1 and 10+2 coaching to medical, non-medical and commerce aspirants. Our institute provides the coaching classes for both CBSE and PSEB students where they can cover the syllabus of their selected board and find the best prospects of a career.
Heights Academy's entire team aims to provide the best coaching for 10+1 and 10+2 students. Our school is furnished with state-of-the-art facilities to keep pace with the technological progress of the 21st century. We understand that maximizing the effectiveness of the teaching process has become essential, so we offer Computer Aided Teaching and smart classes at Heights Academy and School.
Our mentors cover the whole syllabus timely in a professional and organized manner in order to make the students more confident for the sessional as well as the final exams. Right guidance, customized study material, regular practice sections, continuous evaluation, and individual-focused learning environment made our institute the choice of many students and their parents.
Heights Academy believes in discovering unique talents in students and teach them to use their potential to the fullest. Our highly qualified and dedicated mentors help students to promote confidence, direction, brainstorming skills, problem-solving skills, and integrated personality.
Don't delay joining Heights Academy for 10+1 or 10+2 class coaching in the peaceful city Hoshiarpur, Punjab. We ensure you to provide best coaching that will help to brighten your future.

Updated Study Material
Heights Academy offers exclusive study material in order to make the students capable of cracking the toughest competitive exams in the first attempt. We ensure to keep our study material up to date.

Advanced Technology
We use advanced technology to teach students in the best manner. We create practical situations for the brainstorming of the students as they prepare them for real-life challenges.

Experienced Teachers
Our teachers have years of experience hence they guide students in the best possible manner. They know well how to extract the hidden potential of the students and prepare them for achieving their goals.
Fully managed study material
Disciplined and focused learning environment
Integrated teaching approach
Why Choose Heights Academy, Hoshiarpur
Heights Academy offers the best coaching for competitive exams such as JEE, NEET, CLAT, and NDA in a peaceful atmosphere of Hoshiarpur city. You can avail blended learning opportunities at our institute. Under the guidance of Prof. Tarsem Mahajan (Managing Director of Heights Academy), we strive to teach the students with the help of personalized techniques so that they can achieve their goals by academic excellence.